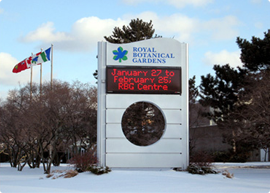 LED Electronic Message Signs are one of the best investments you can make. They increase customer traffic. LED signs are proven to increase sales. There are many sizes and models to choose from. LED(Light Emitting Diode) technology allows you to scroll through several messages in seconds. Wireless options for outdoor LED signs allow you to communicate to the sign from the comfort of your office. Burlington Signs National is a proud distributor for Adaptive Micro Systems, one of the largest technically advanced LED manufacturer in North America. We custom design and manufacture the ground sign structure and specialize in LED signs.
Indoor Products: single line, 2 lines, 3 or more multi line
Outdoor Products
Monochrome: Red or Amber
Full Colour: 7.8mm, 10mm, 16mm & 20mm
Window Displays: BetaBrite
Time / Temperature LED
View Portfolio
Outdoor Single colour LED display boards
(Monochrome) red or amber
The mono colour is the smartest LED choice you can make. Single colours are available in either red or amber. They have enough computing power to create the WOW factor. Some models have a standard feature of 256 levels of shading. This is a great solution for any church, school or business looking to display upcoming events, sales promotions or other important messages. Mono colour LED displays are available in 16mm, 17mm or 20mm. LED signs are highly visible and clear up to 1000 ft away. More important, they are energy efficient.
Standard features
125° viewing angle
256 shades of red or amber
Wired or Wireless connectivity
5 year peace of mind limited warranty
Operates in -40°C to 50°C temperatures
…and much more!
Outdoor Full colour LED display boards
Full colour LED signs will definitely impact your drive-by audience and increase your in-store traffic. Messages will be seen in clarity with the latest LED technology. Images will attract, motivate and inform your customers. Full Colour LED electronic signs are available in 3 main resolutions – 10mm, 16mm & 20mm
Standard Features
120º viewing angle
Operates in -40ºC to +50ºC
Life tested and rated for +10yrs
5 year parts warranty
4000 Quintillion Colors
Software allows images, editing & scheduling
Window Displays
Window Displays bring attention grabbing features of an outdoor LED display right into your window. If you have by-law or cost restrictions then the betabrite window display is a perfect solution.
Standard Features
Colour or Red only
10mm pixel
6 standard sizes from 2 to 6 line model
All units include software, 50ft Ethernet & 115VAC plug cord
Optional wireless kit available
One year limited warranty
Time/Temp LED signs
Wireless RF Keypad Standard Communications
Change settings at the change of a button
140° viewing angle
100,000+ hours
– 40°C to + 50°C
3 year factory warranty
Various sizes – 8", 10", 12", 15", 18" and 24"
CONTACT

BURLINGTON SIGNS NATIONAL