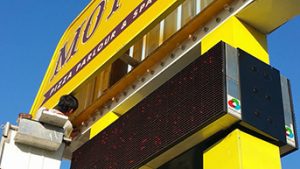 Get rid of old neon in your channel letters and replace them with energy efficient LED modules. Safe money in energy costs and costly repairs and give a fresh look to your existing sign.
Give your ground sign a face lift. Paint the existing structure, frames and posts. Lexan faces that have dis-coloured or broken acrylic faces can be replaced. Burlington Signs National can restore your ground sign or pylon and have it looking like new!
Illuminated Pylons, sign boxes and ground signs can now have the florescent lamps replaced with LED lighting. In the long run you will save money in energy costs and service calls.
Give your pylon or ground sign a face-lift with a fresh new look or new design. Burlington Signs National can refurbish your existing sign and give it new life and protect your investment.
Retrofit your existing ground sign or pylon with an LED display. Manual read-o-graph signage can be replaced with an Electronic LED display board. Change messages quickly and easily form the comfort of your office. No more going out in the cold weather to put up your messages. Visit our LED display portfolio page.
Does your plaza need updating? Outdated bulkheads in your plaza can have a face-lift. Get rid of old sign boxes. Replace them with channel letters. Burlington Signs National can help you through this process. We will work with your contractor and architect to ensure they have the correct electrical and structural requirements. We will help make it an easier transition for your tenants. We will assist your tenants with their sign design so that their new signage will bring impact to their business.
CONTACT

BURLINGTON SIGNS NATIONAL