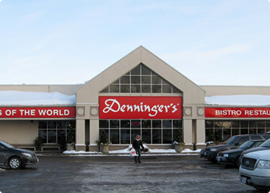 Illuminated sign boxes are great for displaying your company name, logo and services. Sign boxes are used in many different type of businesses. They are used in retail, industrial and commercial.
The faces come in acrylic, lexan or flex-face material. They are internally illuminated which will enhance your graphics to the best quality. Our sign cabinets are manufactured from high quality all aluminum extrusion. They are the 'SIGN-PRO system' or 'EX series". The sign box and frame come in an anodized finish or painted to your choice of colour. Illuminated fascia sign boxes are an efficient method of advertising your business. Graphics can be changed often without replacing the whole sign.
Burlington Signs National also offers another popular option – the push thru illuminated sign box. This is a custom built sign cabinet that has an aluminum face with CNC cut out graphics. Then it is completed with raised acrylic inserts. The push thru sign box is always very impressive.
Each one of these sign boxes will make your business stand out and create a great landmark.
View Portfolio
CONTACT

BURLINGTON SIGNS NATIONAL